Southwest Michigan is home to the vibrant and artistic Twin Cities of Benton Harbor and St. Joseph. Visiting the waterfronts of Lake Michigan and the St. Joseph River, walking along Lake Boulevard in St. Joseph or exploring the Arts District of Benton Harbor soon reveals that there is a wide range of artists and artworks integrated throughout the community. In particular, there are several publicly placed outdoor sculptures and monuments. As part of the community, these artworks and memorials are a source of community pride. They beautify our neighborhoods and make them unique.
The merits of public art have become increasingly recognized. Public art offers informal opportunities to experience art during outdoor activities and exploration. It can be experienced in formals or flip flops, costs nothing to see, is available day and night and is barrier free. Public art frequently becomes a shared site to gather or a visual marker for destinations. People take photos in front of it, using it to capture and share special memories and moments. It is fun and invites engagement. Further, public art is known to increase the safety of the sites where it is located as well as drive cultural tourism, providing tangible benefits to the community in which it resides.
Read further to learn about the organizations and sites that host public art in the Twin Cities.
KRASL ART CENTER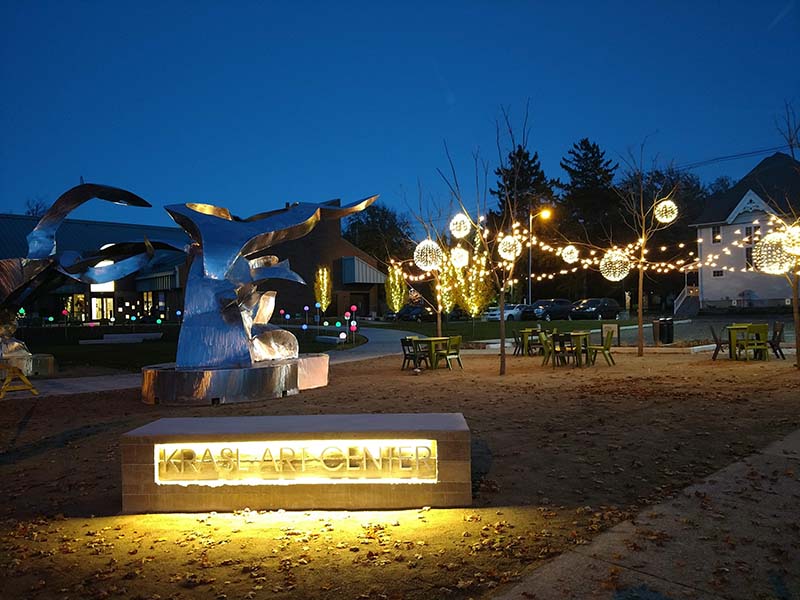 The Krasl Art Center (KAC) in St. Joseph has collected sculptures since it opened its doors in 1980. Believing in the power of art and community, KAC originally developed its collection to complement the memorials along Lake Bluff Park through the commissioning and acquisition of unique contemporary sculptures. Today, the KAC celebrates its newly renovated grounds with the monumental sculpture Rising Crossing Tides by Richard Hunt at its focal point – both of which purposefully invite the community to engage with the grounds and the art on view as an extension of the beautiful outdoor surroundings.
Sculpture in the KAC collection ranges from regional artists to internationally recognized sculptors. On the west face of the KAC building the kinetic sculpture Three Lines Diagonal by artist George Rickey may be found. Rickey was a native of Indiana yet his artworks are on view in museums and sculpture parks throughout the world. Three Lines Diagonal is a dynamic sculpture of vertical elements held together by industrial airplane bearings. The elements twist and turn, powered only by the wind, usually off the lake, echoing its ferocity and calm from day to day, hour to hour.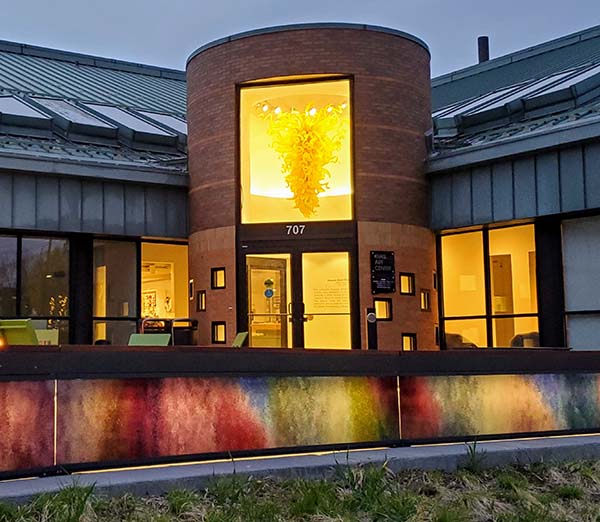 American Treasure Dale Chihuly's Beacon Gold Chandelier bursts with color and energy in its perfectly framed location within the KAC entrance. Day and night guests can see this world-class glass sculpture. On the KAC grounds, is a bronze sculpture by artist Dr. Burt Brent called The Heavyweight (renamed Lotus the hippo by local children), that welcomes young guests to crawl on her back because it is perfectly accessible and broad enough to sit on.
SILVER BEACH COUNTY PARK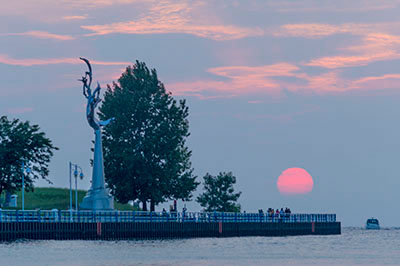 Additional sculptures from the Krasl Art Center's collection may be experienced at Silver Beach County Park. These works happily reside alongside beach-goers, surfers, volleyball players, children and adults alike. They endure the blowing sand of the beach year-round, which is why all are made of steel and often unpainted. Preeminent American sculptor Richard Hunt's And You, Seas is located at the north end of the park, along the pier. It is a monumental steel sculpture overlooking the mouth of the St. Joseph River. Referencing waves, wind and nature, it is a commemorative artwork that also acknowledges the sailing community within the region.
MARGARET B. UPTON ARBORETUM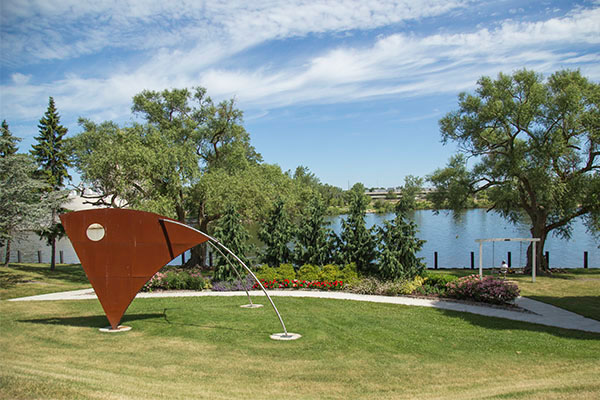 Since 1996, the KAC has produced its Biennial Sculpture Invitational. This 15-month long exhibition brings in sculptures by artists predominantly from the region. It provides an ever-changing display of public art throughout the twin cities of Benton Harbor and St. Joseph, with one of its main locations being the Margaret B. Upton Arboretum. Twelve sculpture pads feature Biennial artworks. This effort is coordinated with the City of St. Joseph, with engagement by both the city and community in its selection and placement.
BOX FACTORY FOR THE ARTS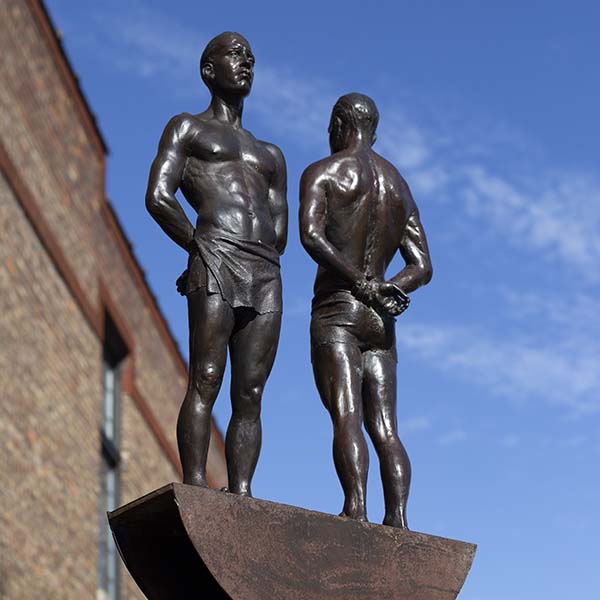 The KAC partners with the Box Factory for the Arts to place six Biennial sculptures directly across the street from its main entrance. Sloping up a hill, artworks enliven the space with color, texture and form. The Box Factory curates a selection of artworks for its immediate grounds as well. This tradition honors their commitment to regional artists. Presently, South Bend artist Dora Natella's sculpture The Sentinel stoically greets guests as they enter the front doors of this dynamic arts organization. Natella is a master of the human figure and this piece is a strong testament of her vision and skill.
BENTON HARBOR ARTS DISTRICT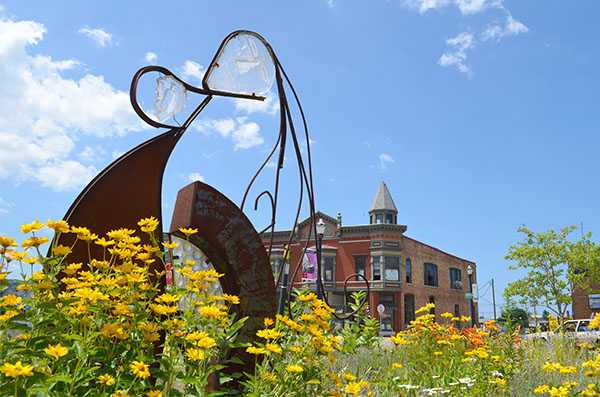 The Arts District of Benton Harbor is filled with art, some placed by the KAC, but most placed by artists living and working in the community. There are several small pocket parks in the district and the influence of Water Street Glass Works and its Metal Shop is evident in the types of artworks often found within them. Quarterly Art Hops bring even more temporary art placements, pop-up galleries and exhibitions to the neighborhood making it an exciting place to visit and wander through.
This is by no means an exhaustive list of art sites in the Twin Cities. Several memorials may be found on Lake Bluff Park in St. Joseph and more Biennial sculptures may be seen at Lookout Park along Lakeshore Drive and at Jean Klock Park in Benton Harbor.
If you have not explored the art in this area, do so. Ride your bike, take a picnic, go on a walking tour. A sculpture map and additional content may be found at krasl.org that will help you get started. Have fun with it. Ask yourself, your children or your friends what they see. There are no wrong answers.
By Tami Miller, Curator for the Krasl Art Center